Pravina Pathak
Executive Chairman
Pravina has vast experience of teaching Economics and applying the same as a retail investor in analysing and picking right equities for more than 40 years. It is very rare that you find a small-scale investor who has always gained in the equities' investments by applying traditional stock picking methods when markets are volatile, and indices swing frequently. Pravina managed an equity portfolio comprising more than 60 companies listed and publicly traded on the National and Bombay Stock Exchanges in India over three decades. Her research interests include equity analysis, sovereign credit risk and economics. She has Master's and Bachelor's degree in Economics and Politics and Bachelor's in Education from Saurashtra University, India.
Signe Biddle
Non-Executive Director
Signe is a multi-disciplinary financial leader commanding extensive experience overseeing international teams and leading critical decision-making in highly regulated, fast-paced environments. Signe delivers deep insight into risk mitigation, regulatory compliance and the global FX and Rates markets. With over 25 years' experience in international investment banking from front to back office including change, conduct and trader monitoring, her confidence, commitment and integrity enables organisations to design and implement robust cross-functional systems, processes and procedures to drive organisational value and scalability.

In all capacities, Signe is a strategic thinker, uniquely capable of distilling complexity into clarity, devising comprehensive strategies for growth and expansion, identifying market opportunities and integrating and optimising business developments.

Ms Biddle has been previously a managing director at Commerzbank and a director at BNP Paribas, National Australia Bank, Nomura International, Royal Bank of Scotland , ABN AMRO and Barclays de Zoete Wedd. Signe is head of a committee for compliance and indices.

Her demonstrable experience and transferable skills in team management, project and regulatory implementation as well as wider interests in politics, frontline archaeology and economics give her a broad base in which to offer independent oversight and challenge for senior management teams seeking a financial expert, a friendly mentor and an adaptable business leader.
Dr Harry G. Broadman
Non-Executive Director
Dr Harry G. Broadman is a 36 year veteran multinational finance C-suite operational executive, independent board director and global strategic advisor to C-suites and boards of U.S. and non-U.S. corporations, banks, private equity firms, pensions, families, and sovereign wealth funds.
Dr Broadman's operational expertise centres on: negotiating complex cross-border investment and trade transactions; building global supply chains; devising multi-dimensional approaches for risk-mitigation, FCPA compliance and financial control regimes; executing enterprise restructuring; championing proactive stakeholder strategies; and pursuing novel corporate alliances, M&A and JVs, Public-Private Partnerships (PPPs), and Corporate Social Responsibility (CSR) initiatives to foster risk-sharing and enduring market relationships.
Broadman has extensive hands-on experience across three broad-based industries: Financial Services, especially corporate finance, banking, private equity, asset management, institutional investing and financial controls; Infrastructure Sectors, including logistics, aviation, shipping, rail, trucking, telecoms, utilities, tourism, e-commerce and construction; and Energy, Minerals and Natural Resources Industries. Over his career he's worked at the field level in all advanced economies as well as in 75+ Emerging Markets spanning 5 continents, especially in China, India, ASEAN, LATAM, Eastern Europe, Turkey, the Balkans, Russia, Africa, and the Middle East.
He is a world renowned authority on global business growth strategy, corporate governance, compliance and innovation, and has published several books and numerous professional articles. He is extensively engaged as an Expert Witness in complex cases on matters involving international trade and investment disputes, antitrust, utility regulation, financial controls, and valuation of economic damages. As a strategic advisor to C-suites and boards. Broadman has worked for companies as diverse as GE, IBM, Coca-Cola, Canon, Exxon-Mobil, Valmet, Corning, Heineken, Merck, Walmart, Deere, the Canadian Pension Plan Investment Board, Intel, ICANN, SunEdison, Illinois Tool Works, Westinghouse, Siemens, Standard Chartered, Microsoft, Manitowoc, PPG, Tyco, Caterpillar, Dow, and Avon.
Broadman is currently CEO and Managing Partner of an emerging markets-focused investment transaction advisory firm, Proa Global Partners LLC; on the Faculty of Johns Hopkins University; a monthly business columnist for Forbes; Newsweek; and Gulf News; and a Master Workshop Faculty Member for the National Association of Corporate Directors (NACD). He serves as a Non-Executive Board Director of: (i) Armor Text — a cybersecurity software services provider; (ii) Partners Global—an alternative dispute resolution (ADR) firm operating in 22 emerging markets, on which he sits of the Board's Executive Committee and also Chairs the Audit Committee; (iii) The Lake Tanganyika Floating Health Clinic—a cross-border healthcare and telecom services provider in 4 countries in Africa, and (iv) The Global Business School Network—a strategic alliance of advanced and developing country graduate business schools. Earlier he was on the Boards of the (v) Russian-American Chamber of Commerce and (vi) The Corporate Council on Africa. In 2015, Broadman stepped down as Senior Managing Director at Pricewaterhouse Coopers, where he founded and led PwC's Business Growth Strategy Management Consulting Practice, which operated in 20+ countries. He also served as PricewaterhouseCoopers' Chief Economist, working worldwide with PwC's Chairman, CEO and Leadership Team, as well as with PwC's Audit and Tax Practices.
Earlier, he was Managing Director and on the Investment Committee at Albright Capital Management, a global private equity firm led by Madeleine Albright, and A World Bank official, overseeing the Bank's largest sovereign and enterprise restructuring loans in China and Russia.
Prior to that, Broadman served in the White House: as United States Assistant Trade Representative, leading negotiations for NAFTA and the WTO, a s well as negotiations of all U.S. Bilateral Investment Treaties; as Chief of Staff of the President's Council of Economic Advisers; on the Board of Directors of the Overseas Private Investment Corporation (OPIC); and on the Committee on Foreign Investment in the U.S. (CFIUS). Before coming to the White House, he was Chief Economist of the U.S. Senate Committee on Governmental Affairs, then chaired by John Glenn. Previously, he worked at the RAND Corporation; The Brookings Institution; Resources for the Future, Inc., and on the Harvard University Faculty.
A lifetime member of the Council on Foreign Relations and The Bretton Woods Committee, Broadman received an A.B. in economics, magna cum laude, from Brown University, where he was elected to Phi Beta Kappa, and a Ph.D. in economics from the University of Michigan in 1981.
Kate Harrison
Non-Executive Director
Kate has over two decades of experience working within customer, communications and marketing functions, in industry and in executive search. She advises clients seeking commercial growth from transformative customer engagement and advocacy. Kate is head of a committee for customer relationship management, marketing, communications, sales and brand performance at Strategic Ratings. Throughout her career, Kate has developed an extensive network of talent in the UK, Europe and USA in multiple disciplines including the specialisms of digital and direct, content, media, creative, insight or analytics, partnerships and martech.

Since graduating in 1995 with a First-Class degree in Business Studies, Kate has worked in client service roles, firstly in the marcomms industry and then in executive search. The first half of her career was in global advertising and brand agencies with secondments into client-side marketing departments. She ended up running Leo Burnett's (Publicis Groupe) 85 headcount client service department as a member of the Executive Board. The second half of her career has been in executive search, advising companies needing customer leadership during wave after wave of successive and significant transformation in the marketing and commercial functions.

Kate advises companies to achieve growth and positive change from the corporate functions that primarily influence customers. Kate draws upon her multi-domain experience enabling her to create diversity of thinking and diversity of teams. Kate recommends that when the marketing function is arguably being challenged more than any other corporate function, knowledge from customer-centric companies, sector to sector (especially when sector boundaries continue to blur), and working with businesses from early stage to mature multinationals, gives us valuable insight for a range of clients.
Tony Gamby
Non-Executive Director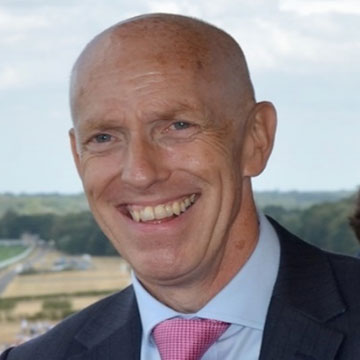 Tony has more than 40 years financial services experience across Investment, Commercial and Retail Banking. Tony has extensive experience and specialisation in Investment Banking emerging markets, including defining and implementing infrastructure for global operations in both proprietary trading and agency broking businesses across all major asset classes. He has particular experience in defining and implementing operational strategy and structure to support the development of changing business models.
He advised HSBC Global Banking and Markets business division on the introduction of their Global Standards programme following the US Department of Justice 5-year imposed deferred prosecution agreement due to non-compliance of anti-money laundering laws. Prior to this Tony was a Director at Standard Bank London, where he managed the international discretionary change management portfolio taking direct responsibility for delivering a number of post-acquisition integration and new business start-up programmes in Hong Kong, Sao Paulo, Moscow and Jersey.
Tony was previously at ING Barings where he was Director of Global Operations and led a number of significant projects, including delivery responsibility for combining the infrastructure of the agency broking and investment banking business models. Throughout his career he has consistently worked and advised at board level leading a number of strategic reviews in the areas of performance management, operations infrastructure, organisational structure and returns on discretionary investment.
Goran Mickovski
Non-Executive Director
Goran Mickovski is a finance and legal professional with over 20 years of experience from leading international investment banks, law firms and private equity firms in the City of London and internationally. During his career in the City, he has structured and advised on many international finance and corporate transactions. From 2014-2017 Mr Mickovski held the post of Minister for Foreign Investments in the Government of Macedonia, where he was tasked, inter alia, with bringing foreign direct investment into the country. He also served as director for investment attraction and promotion with the Saudi government, tasked with bringing more foreign investment into that country.

Mr Mickovski is well versed into the ratings business and has many years of experience with rated transactions as principal advisor to leading international banks and other issuers on many rated debt capital markets transactions, including sovereign debt issuances.

He has prior board experience within private equity and also as General Counsel. Mr Mickovski is a British national and is based in London.
Christina Di-Nolfo
Non-Executive Director
Christina brings with her over 27 years of global experience and knowledge of all aspects of data management, business intelligence, and analytics, which underpins how to transform data into valuable strategic opportunities. These skills enable her to transform business objectives into strategic opportunities, supported by technology. She is a solution-orientated, dynamic, game-changing, global business development, senior leader and strategic transformation consultant, with an extensive track record in building and delivering highly effective business and technology strategies, business transformation, governance, risk and compliance, and M&A activity to drive major growth for both large corporates and start-ups.

Christina has worked for some of the world's largest technology and data providers – IBM, HP and Dun & Bradstreet where she held senior roles in Data Management, BI and Analytics, and Thomson Reuters where she headed up the Advisory Business, she has also been responsible globally for clients across Insurance, Banking, Retail and Pharma industries.

One of her core skills is to understand, on a multi-dimensional level, business requirements and to provide recommendations and then design and orchestrate the successful delivery of said strategies, contributing to long term business growth, she is also very well versed in crisis management and turnaround of client portfolios. Christina is head of a profit protection committee and a member of strategy and finance committee and marketing and sales committee at Strategic Ratings.

Christina holds an MBA from Warwick Business School, a Professional Postgraduate Diploma in Governance, Risk and Compliance from ICA, and a degree in German and Business from Warwick University.
Abdulkader Thomas
Non-Executive Director
Abdulkader has over 40 years of diversified financial services experience in global markets including Kuwait Bahrain, New York, London, Los Angeles and Washington, D.C. His areas of activity have included trade finance, real estate finance, securities, and alternative finance at various global and regional financial institutions. He is currently the Group CEO of SHAPE Knowledge Services which operates in Kuwait, the USA and Malaysia.

An experienced NED, Abdulkader serves on the board of Alkhabeer Capital in Jeddah, Kingdom of Saudi Arabia. He has previously served as the chairman of Alkhabeer's subsidiaries in Bahrain and Dubai, as a member and later chairman of the audit committee, and the nomination and remuneration committee. He is currently establishing the board risk committee.

Abdulkader currently serves as the chairman of the Advisory Committee of Experts at Sterling Bank, Plc (Nigeria). He is a technical consultant to University Bank (USA) and has previously been a technical expert on the Shariah Board of Bank Muscat. Abdulkader has acted as a member of the international advisory board of the Securities Commission of Malaysia.

Abdulkader has taught for IE Business School (Madrid) and the Kellstadt School of Business at DePaul University (Chicago/Bahrain). Among other works, he has co-authored or contributed to Islamic Bonds (Euromoney 2004), Sukuk (Sweet & Maxwell 2009), and Managing Funds Flow Risks and Derivatives: Applications in Islamic Institutions (Sweet & Maxwell 2012) and Housing the Nation (Cagamas 2013). Abdulkader holds a Bachelor's degree in Arab and Islamic Studies from the University of Chicago, USA; and a Master of Arts in Law and Diplomacy from the Fletcher School of Law and Diplomacy, USA.
Niki Todd
Non-Executive Director
Mrs Niki Nicolaou – Todd is an experienced Chartered accountant with extensive knowledge and experience of a wide range of business areas. As the CEO of a Boutique accounting practice for over 27 years that has been providing dynamic business solutions to SMEs, local businesses and EU businesses, she prides herself in her positive contribution to every problem area encountered by clients trading and prospering in the UK and Europe as well as further afield in our globalised world economy.

She prides herself in being a trusted advisor to her clients, through her collaborative approach and deep understanding of the challenges faced by business. This inclusive approach allows relationships to form quickly and trust to develop, the basic tenets of a solid working relationship.

From the implementation of new regulations to the change transformation of businesses with the aim for a leaner more community based and ethical entity, to raising finance through banks and business angels to succession planning and implementing she has experienced the depth and breadth of business life.

Her experience of the Corporate Taxation landscape which has become more complicated with intergovernmental co-operation as well as a concerted effort lead by the G20 to ensure transparency and ethical application of tax law gives her a unique ability to assist with the planning and application of Taxation – Direct and Indirect - planning in order to maximise opportunity and create a Cohesive Plan ensuring adherence to the Tax law, application of all opportunities available to Corporate Entities leading to budget consistency and integrity.
Dr Vishvesh Pathak
Founder & Executive Director
Dr Vishvesh Pathak is the founding director of Strategic Ratings, A credit ratings division of CEO 24X7 Limited. He has more than 21 years of professional work experience in consulting, retail, higher education, construction and manufacturing industries. He has worked for world renowned FTSE100 listed multi-national enterprises in the UK and some of the best national brands in India. His expertise includes credit ratings, strategy, business process design and optimisation and organisational performance management. Recently his innovative credit risk measurement model proved that it has better predictive power of credit worthiness or credit risk of large companies traded on London, New York and Bombay stock exchanges which include more than 100 index constituent companies of FTSE100 (UK100), DJIA (US30), S&P500 and BSE SENSEX in seven manufacturing and service industries.

His research is focussed on strategic management, corporate resilience and reliability analyses, equities trading, credit risk analysis and credit ratings derivation of publicly traded companies. He holds PhD from Brunel University, London; MBA from University of Surrey, Guildford, United Kingdom, and B.Eng. in Civil Engineering from NIT Calicut, India. He also holds Certificate of Teaching in Higher Education from Brunel University, London and Diploma in Export-Import Management from Indian Institute of Materials Management, India.
Prof Yaochu Jin
Non-Executive Director
Yaochu Jin received the B.Sc., M.Sc., and Ph.D. degrees from Zhejiang University, Hangzhou, China, in 1988, 1991, and 1996, respectively, and the Dr.-Ing. degree from Ruhr University Bochum, Germany, in 2001.

He is currently a Distinguished Chair, Professor in Computational Intelligence, Department of Computer Science, University of Surrey, Guildford, U.K., where he heads the Nature Inspired Computing and Engineering Group. He was a Finland Distinguished Professor funded by the Finnish Funding Agency for Innovation (Tekes) and a Changjiang Distinguished Visiting Professor appointed by the Ministry of Education, China. His main research interests include data-driven surrogate- assisted evolutionary optimization, multi-objective evolutionary learning, privacy-preserving and adversarial machine learning, and evolutionary developmental systems. His research has been funded by EU, EPSRC, Royal Society, NSFC, and the industry, including Honda, Airbus, and Bosch.

Dr Jin is presently the Editor-in-Chief of the IEEE TRANSACTIONS ON COGNITIVE AND DEVELOPMENTAL SYSTEMS and the Editor-in-Chief of Complex & Intelligent Systems (Springer). He was an IEEE Distinguished Lecturer (2013-2015 and 2017-2019), an elected AdCom member of the IEEE Computational Intelligence Society (2013-2014), and Vice President for Technical Activities of the IEEE Computational Intelligence Society (2014-2015). He was the General Co-Chair of the 2016 IEEE Symposium Series on Computational Intelligence, the Chair of the 2020 IEEE Congress on Evolutionary Computation, and the Registration Chair of the 2016 IEEE World Congress on Computational Intelligence. He is the recipient of the 2018 IEEE Transactions on Evolutionary Computation Outstanding Paper Award, the 2015 and 2017 IEEE Computational Intelligence Magazine Outstanding Paper Award, and the Best Paper Award of the 2010 IEEE Symposium on Computational Intelligence in Bioinformatics and Computational Biology. He was named by the Web of Science Group as "a Highly Cited Researcher in 2019". He is a Fellow of IEEE.
Dr Philip Walsh
Non-Executive Director
Dr. Walsh began his professional career working for Union Carbide Exploration on tungsten and precious metal exploration in B.C., Yukon and the Northwest Territories. In 1981 he joined Hudson's Bay Oil and Gas as an oil and gas explorationist in Calgary, Alberta, Canada. In 1984, he returned to Ontario, Canada to take a gas supply operations position with Union Gas Limited. Dr. Walsh managed the geology department and contributed to the evaluation and development of various natural gas storage and production projects. In 1987 he formed a consultancy to provide technical services to natural gas utilities and producers and his clientele have included many of North America's major utilities, a number of governmental and municipal agencies, and various Canadian and British energy consuming organizations.
In 2003 Dr. Walsh completed his doctoral research into deregulated markets, in particular the Ontario energy market, and was appointed as a Lecturer in Corporate Strategy at the University of Surrey and MBA Programme Director.
He arrived at Ryerson in 2007 to take the position of Associate Professor, Entrepreneurship & Strategy. Dr. Walsh is the Faculty Advisor for JDC Ryerson, Editor of Entrepreneurial Practice Review, a Fellow of the Ryerson Entrepreneurship Research Institute and a member of the Ryerson Institute for the Study of Corporate Social Responsibility. In addition, he currently acts as the Academic Co-ordinator for the Mining Management program at TRSM and the Chang School.
Prof. Walsh continues to provide consulting services to the North American and European energy industries. He is a registered professional geoscientist in Alberta and Ontario.