Global Team
Pravina Pathak
Executive Chairman
Pravina has vast experience of teaching Economics and applying the same as a retail investor in analysing and picking right equities for more than 40 years. It is very rare that you find a small-scale investor who has always gained in the equities' investments by applying traditional stock picking methods when markets are volatile, and indices swing frequently. Pravina managed an equity portfolio comprising more than 60 companies listed and publicly traded on the National and Bombay Stock Exchanges in India over three decades. Her research interests include equity analysis, sovereign credit risk and economics. She has Master's and Bachelor's degree in Economics and Politics and Bachelor's in Education from Saurashtra University, India.
Dr Philip Walsh
Non-Executive Director
Dr. Walsh began his professional career working for Union Carbide Exploration on tungsten and precious metal exploration in B.C., Yukon and the Northwest Territories. In 1981 he joined Hudson's Bay Oil and Gas as an oil and gas explorationist in Calgary, Alberta, Canada. In 1984, he returned to Ontario, Canada to take a gas supply operations position with Union Gas Limited. Dr. Walsh managed the geology department and contributed to the evaluation and development of various natural gas storage and production projects. In 1987 he formed a consultancy to provide technical services to natural gas utilities and producers and his clientele have included many of North America's major utilities, a number of governmental and municipal agencies, and various Canadian and British energy consuming organizations.
In 2003 Dr. Walsh completed his doctoral research into deregulated markets, in particular the Ontario energy market, and was appointed as a Lecturer in Corporate Strategy at the University of Surrey and MBA Programme Director.
He arrived at Ryerson in 2007 to take the position of Associate Professor, Entrepreneurship & Strategy. Dr. Walsh is the Faculty Advisor for JDC Ryerson, Editor of Entrepreneurial Practice Review, a Fellow of the Ryerson Entrepreneurship Research Institute and a member of the Ryerson Institute for the Study of Corporate Social Responsibility. In addition, he currently acts as the Academic Co-ordinator for the Mining Management program at TRSM and the Chang School.
Prof. Walsh continues to provide consulting services to the North American and European energy industries. He is a registered professional geoscientist in Alberta and Ontario.
Dr Harry G. Broadman
Non-Executive Director
Dr Harry G. Broadman is a 36 year veteran multinational finance C-suite operational executive, independent board director and global strategic advisor to C-suites and boards of U.S. and non-U.S. corporations, banks, private equity firms, pensions, families, and sovereign wealth funds.
Dr Broadman's operational expertise centres on: negotiating complex cross-border investment and trade transactions; building global supply chains; devising multi-dimensional approaches for risk-mitigation, FCPA compliance and financial control regimes; executing enterprise restructuring; championing proactive stakeholder strategies; and pursuing novel corporate alliances, M&A and JVs, Public-Private Partnerships (PPPs), and Corporate Social Responsibility (CSR) initiatives to foster risk-sharing and enduring market relationships.
Broadman has extensive hands-on experience across three broad-based industries: Financial Services, especially corporate finance, banking, private equity, asset management, institutional investing and financial controls; Infrastructure Sectors, including logistics, aviation, shipping, rail, trucking, telecoms, utilities, tourism, e-commerce and construction; and Energy, Minerals and Natural Resources Industries. Over his career he's worked at the field level in all advanced economies as well as in 75+ Emerging Markets spanning 5 continents, especially in China, India, ASEAN, LATAM, Eastern Europe, Turkey, the Balkans, Russia, Africa, and the Middle East.
He is a world renowned authority on global business growth strategy, corporate governance, compliance and innovation, and has published several books and numerous professional articles. He is extensively engaged as an Expert Witness in complex cases on matters involving international trade and investment disputes, antitrust, utility regulation, financial controls, and valuation of economic damages. As a strategic advisor to C-suites and boards. Broadman has worked for companies as diverse as GE, IBM, Coca-Cola, Canon, Exxon-Mobil, Valmet, Corning, Heineken, Merck, Walmart, Deere, the Canadian Pension Plan Investment Board, Intel, ICANN, SunEdison, Illinois Tool Works, Westinghouse, Siemens, Standard Chartered, Microsoft, Manitowoc, PPG, Tyco, Caterpillar, Dow, and Avon.
Broadman is currently CEO and Managing Partner of an emerging markets-focused investment transaction advisory firm, Proa Global Partners LLC; on the Faculty of Johns Hopkins University; a monthly business columnist for Forbes; Newsweek; and Gulf News; and a Master Workshop Faculty Member for the National Association of Corporate Directors (NACD). He serves as a Non-Executive Board Director of: (i) Armor Text — a cybersecurity software services provider; (ii) Partners Global—an alternative dispute resolution (ADR) firm operating in 22 emerging markets, on which he sits of the Board's Executive Committee and also Chairs the Audit Committee; (iii) The Lake Tanganyika Floating Health Clinic—a cross-border healthcare and telecom services provider in 4 countries in Africa, and (iv) The Global Business School Network—a strategic alliance of advanced and developing country graduate business schools. Earlier he was on the Boards of the (v) Russian-American Chamber of Commerce and (vi) The Corporate Council on Africa. In 2015, Broadman stepped down as Senior Managing Director at Pricewaterhouse Coopers, where he founded and led PwC's Business Growth Strategy Management Consulting Practice, which operated in 20+ countries. He also served as PricewaterhouseCoopers' Chief Economist, working worldwide with PwC's Chairman, CEO and Leadership Team, as well as with PwC's Audit and Tax Practices.
Earlier, he was Managing Director and on the Investment Committee at Albright Capital Management, a global private equity firm led by Madeleine Albright, and A World Bank official, overseeing the Bank's largest sovereign and enterprise restructuring loans in China and Russia.
Prior to that, Broadman served in the White House: as United States Assistant Trade Representative, leading negotiations for NAFTA and the WTO, a s well as negotiations of all U.S. Bilateral Investment Treaties; as Chief of Staff of the President's Council of Economic Advisers; on the Board of Directors of the Overseas Private Investment Corporation (OPIC); and on the Committee on Foreign Investment in the U.S. (CFIUS). Before coming to the White House, he was Chief Economist of the U.S. Senate Committee on Governmental Affairs, then chaired by John Glenn. Previously, he worked at the RAND Corporation; The Brookings Institution; Resources for the Future, Inc., and on the Harvard University Faculty.
A lifetime member of the Council on Foreign Relations and The Bretton Woods Committee, Broadman received an A.B. in economics, magna cum laude, from Brown University, where he was elected to Phi Beta Kappa, and a Ph.D. in economics from the University of Michigan in 1981.
Prof Yaochu Jin
Non-Executive Director
Yaochu Jin received the B.Sc., M.Sc., and Ph.D. degrees from Zhejiang University, Hangzhou, China, in 1988, 1991, and 1996, respectively, and the Dr.-Ing. degree from Ruhr University Bochum, Germany, in 2001.

He is currently a Distinguished Chair, Professor in Computational Intelligence, Department of Computer Science, University of Surrey, Guildford, U.K., where he heads the Nature Inspired Computing and Engineering Group. He was a Finland Distinguished Professor funded by the Finnish Funding Agency for Innovation (Tekes) and a Changjiang Distinguished Visiting Professor appointed by the Ministry of Education, China. His main research interests include data-driven surrogate- assisted evolutionary optimization, multi-objective evolutionary learning, privacy-preserving and adversarial machine learning, and evolutionary developmental systems. His research has been funded by EU, EPSRC, Royal Society, NSFC, and the industry, including Honda, Airbus, and Bosch.

Dr Jin is presently the Editor-in-Chief of the IEEE TRANSACTIONS ON COGNITIVE AND DEVELOPMENTAL SYSTEMS and the Editor-in-Chief of Complex & Intelligent Systems (Springer). He was an IEEE Distinguished Lecturer (2013-2015 and 2017-2019), an elected AdCom member of the IEEE Computational Intelligence Society (2013-2014), and Vice President for Technical Activities of the IEEE Computational Intelligence Society (2014-2015). He was the General Co-Chair of the 2016 IEEE Symposium Series on Computational Intelligence, the Chair of the 2020 IEEE Congress on Evolutionary Computation, and the Registration Chair of the 2016 IEEE World Congress on Computational Intelligence. He is the recipient of the 2018 IEEE Transactions on Evolutionary Computation Outstanding Paper Award, the 2015 and 2017 IEEE Computational Intelligence Magazine Outstanding Paper Award, and the Best Paper Award of the 2010 IEEE Symposium on Computational Intelligence in Bioinformatics and Computational Biology. He was named by the Web of Science Group as "a Highly Cited Researcher in 2019". He is a Fellow of IEEE.
Dr Vishvesh Pathak
Founder & Executive Director
Dr Vishvesh Pathak is the founding director of Strategic Ratings, A credit ratings division of CEO 24X7 Limited. He has more than 21 years of professional work experience in consulting, retail, higher education, construction and manufacturing industries. He has worked for world renowned FTSE100 listed multi-national enterprises in the UK and some of the best national brands in India. His expertise includes credit ratings, strategy, business process design and optimisation and organisational performance management. Recently his innovative credit risk measurement model proved that it has better predictive power of credit worthiness or credit risk of large companies traded on London, New York and Bombay stock exchanges which include more than 100 index constituent companies of FTSE100 (UK100), DJIA (US30), S&P500 and BSE SENSEX in seven manufacturing and service industries.

His research is focussed on strategic management, corporate resilience and reliability analyses, equities trading, credit risk analysis and credit ratings derivation of publicly traded companies. He holds PhD from Brunel University, London; MBA from University of Surrey, Guildford, United Kingdom, and B.Eng. in Civil Engineering from NIT Calicut, India. He also holds Certificate of Teaching in Higher Education from Brunel University, London and Diploma in Export-Import Management from Indian Institute of Materials Management, India.
Dr Santosh Tirunagari
Business Director
Dr Tirunagari has more than a decade of professional experience as a Software Developer as well as a Data Scientist. His research interests include probabilistic machine learning and statistical signal processing with applications to computer vision and natural language processing. He has obtained his PhD in Computer Science from the University of Surrey in 2017. He has published more than 30 peer-reviewed research publications and has won awards including the best research potential and the best presentation awards at various top-tier conferences. He is also a recipient of the 2018 CogX Award for 'Outstanding contribution in Artificial Intelligence – Post Doc Research'.

Dr Tirunagari is also an Honorary Assistant Professor at Middlesex University, London. Previously he has worked with Medecode solutions, Rofous software, Aalto University, University of Surrey, and Synoptic Technologies Ltd.

Prior to his doctorate, Dr Tirunagari has obtained B.Tech in Computer Science and Engineering from Jawaharlal Nehru Technological University, India and MSc.(Tech.) by Research from Aalto University, School of Science and Technology, Finland.
Dr Mehdi Sarsar
Business Director
Dr Mehdi Sarsar is a senior consultant and an executive doctor in Business administration. He received a doctorate from the Paris school of Business, an advanced master in Entrepreneurship from HEC University of Liège and an MSc in Electronics and Automation from the Bordeaux university of Science and technology, France.
Louis Davies
Non-Executive Director
Mr Davies has over twenty years experience in retail and catering across both public and private sectors. During his career, Louis has enjoyed working for large corporate businesses as well as SME's and have also worked closely with several high street brands developing portfolios. His real passion is into creating new and innovative retail experiences for customers. Thinking out of the box and without being afraid to try something different in strategic decision making are his forte.
Ali Toosy
Business Director
Mr Mohammad Ali Toosy started his professional Career in 1998 from Pakistan Institute of Quality Control which is now known as PIQC Institute of Quality back in 1998. He has worked in multinational & national companies such as CresSoft - Software development; QMS 9000; Evensure Management Services; Critical Software Technologies – A Technology company for the precision industry; Mobilink – a Telecommunication firm, i2c – a Payment processing firm and FINCA – a Microfinance Bank. He has also been a visiting lecturer for total quality management (TQM) & change management to University of Central Punjab.
His international exposure includes countries like USA, UK, Portugal, Switzerland and Pakistan. He has also provided business consulting and training services to the manufacturing, technology, defence & cyber security industry. He attained his MBA degree from University of Surrey and the Six Sigma Black Belt certification from Singapore Quality institution international, and he is qualified a Lean practitioner. His MBA research concentration was on the role of leadership in reducing resistance to change. Currently he is working with FINCA Microfinance Bank looking after the operational excellence initiative. He has delivered trainings in various companies and has been a widely acclaimed speaker in the public forums.
Being a passionate about utilising his experience and knowledge, he is currently mentoring CEOs of companies: Apps Genni – Mr Mudassir Malik, Wifi Gen – Mr Bilal Athar and Veiliux – Mr Shahmeer Amir.
Robinson Nkongonyo-Anyang
Business Director
Robinson is a senior executive accomplished in integrated culture change, organisational transformation, operational improvement, and environmental sustainability across all areas of midstream energy infrastructure, construction and banking. He has more than two decades of professional experience working in the UK and Nigeria. His areas of expertise include business development, operations, managing international projects extensively in infrastructure and banking in addition to a development of network in construction, cement and power plants. Mr Nkongonyo-Anyang has worked in senior positions for Union Bank plc and Union Home plc in Nigeria for 20 years. He holds MBA from University of Surrey, PG Diploma in Banking and Finance from Bayero University and BSc in Business Administration from University of Lagos.
Abhishek Kumar
Business Director
Abhishek is a seasoned risk management consultant with expertise in credit risk modelling. He has extensive experience in using state of the art statistical and econometric techniques in credit and market risk contexts. He is capable to deliver projects with multiple stakeholders and has a proven track record in risk and regulatory initiatives having expertise in financial regulations.
Abhishek is expert in managing critical responsibilities in various credit risk domains e.g. Basel II/III, PD, LGD and EAD modeling, stress testing, economic capital calculations, portfolio management, risk appetite, loss forecasting and gap analysis. He has excellent knowledge of various mathematical, statistical, econometric and machine learning models. Abhishek holds Master's and Bachelor's in Statistics from Indian Statistical Institute, Kolkata and he is a Fellow of the Royal Statistical Society in London, UK.
Madhuri Valiakath
Senior Associate
Madhuri is an experienced risk management professional with several years of experience in the insurance industry as a product management actuary. She has worked with reputed multinational names like Allianz, American International Assurance, BNP Paribas and General Electric. She has been involved in the initial teams of 2 start-up insurance companies in India. Her expertise is in setting up initial systems and processes for new businesses. She has a varied international exposure having worked in India, Thailand, USA and collaborating with teams in Germany, France and Hong Kong. She holds a Master's in Applied Actuarial Science from University of Kent, United Kingdom and a Bachelor's degree in Mathematics from University of Pune, India.
Samyak is skilled in software engineering and high-performance computing including programming utilising C++, HTML5 and JAVA. His work experience includes software development and integration and database management with Vexcolt and Educomp Solutions, India. His research interests are focussed on machine learning, data networks and advanced digital systems. He has obtained B.Eng. in Computer Systems Engineering from Brunel University, UK and is a candidate of MSc in Computer vision, Robotics and Machine learning at University of Surrey, UK.
Vivek Bokinala
Senior Associate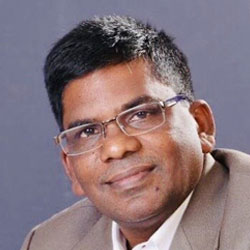 Vivek Bokinala has more than 20 years of IT experience including data science roles. Vivek has worked for the UK local authority organisation as a risk analyst. He has experience in designing frameworks, building models, deploying machine learning algorithms within big data environments.

Vivek has worked for Tata consultancy services, Delta Class solutions and Gloucestershire county council. He is experienced in solving complex big data problems by building predictive and statistical models, discovering trends, time series analysis and forecasting (ARIMA models) and presenting actionable insights. He is proficient in the applications of logistic regression, K-Means segmentation/clustering, random forest, Bayesian networks and time series analysis; experienced in product recommendation techniques including market analysis and collaborative filtering, visualisations using Python/R libraries including GGPLOT2 and Tableau, analysing and predicting web-based data signals using NLP. He has experience of building API's for interactive predictive machine learning applications using R-shiny and Python flask and utilising analytical and statistical packages like R, Python (SKLearn, Pandas, NumPy, matplotlib, Seaborn), SQL, Jupyter Notebooks.

Vivek is in the final year of PhD programme in Computer Science at the University of Surrey. His research focuses on the natural language modelling of the news articles in extracting a set of causal or risk factors in the agriculture industry. Vivek holds MTech in computer science from Jawaharlal Nehru Technological University, a double post-graduation with an MSc and BSc in Mathematics from Osmania University, India.
Strategic Ratings in India
Vijay Joshi
Country Director
Mr Vijay Joshi began his professional Career in 1997 with Synel Inc.( now Atos Origin) a Fortune500 company in Mumbai, India. He has more 23 years of strong IT experience leading IT firms such as Syntel Inc and Tech Mahindra. In the capacity of delivery/program manager, he has successfully delivered multi-million-dollar SI, application development, operations and maintenance, greenfield projects, product development and implementation and transformation programmes.

His international experience spans across multiple geographies such as USA, Middle East and Africa working for fortune500 clients such as British Telecom, Deloitte Consulting, MTN and Vodafone. Vijay is a certified Prince2 practitioner and ITIL certified IT enthusiast who has exposure to multiple technologies such as Mainframes, Java, .Net, JavaScript, Oracle Cots products, AWS Cloud and other open source web technologies such as MEAN stack.

Vijay Holds a master's degree in computer application from Victoria Jubilee Technical Institute (VJTI), Mumbai and bachelor's in science with major in Physics from University of Mumbai. He has also completed a one-year Senior Management program from Indian Institute of Management (IIM) Kolkata.
Samir Upadhyay
Business Director